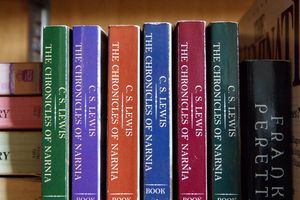 I've often found myself with a strong desire to escape. Not necessarily an escape from anything in particular, as my life has been nowhere near as difficult as most, but an escape into something else. Something higher, deeper, a greater reality...an escape into something more. 
This is a desire that we all seem to share, whether we acknowledge it or not. But, like an itch that returns only moments after it's been scratched, it's there regardless. This coronavirus quarantine only serves to aggravate that itch. It is also a wonderful opportunity to discover what it is we're really after. 
These are the times I am most grateful for the great Christian mythologists. I am speaking of writers such as C.S. Lewis, J.R.R. Tolkien, and George MacDonald. While there is no end to the amount of movies, novels, and videogames one could consume, these writers offer something more. Rather than an escape from the reality of global pandemic, these writers offer a glimpse into a far greater, more solid reality. 
Lewis, for instance, in his highly imaginative work The Great Divorce takes us on an expedition to the doorstep of heaven. He masterfully portrays the divine afterlife as a reality that is, in every sense of the term, more real than even our waking, flesh-and-blood experience. In stark contrast to the ethereal, abstract, and "soft" depiction of the angelic realm in popular culture, Lewis taps into the Scriptural narrative of God's country as one in which only those who put on Christ become substantial enough to even interact with their environment, much less live comfortably. Lewis gives us a peek into what it means to grow more human, not less, in giving oneself over to the Creator of humanity, the Designer of "human-ness" itself. 
For those who have not previously had the time to tackle The Silmarillion by Tolkien, now would be a good time to discover how the world came to be in which the starkests of contrasts between good and evil are on display. The heroic deeds of the High Elves no doubt hearken back to the Saints of our world, who overcame great wickedness at astounding personal cost. The love between Beren and Luthien serves as a peek into the heavenly ideal of committed love and underscores the strength and beauty of loyal marriage in the face of adversity. 
MacDonald in his Phantastes draws his reader into the land of Faerie, where such inclinations as happiness, sorrow, lust, and fear are personified so they are fresh, but also strangely recognizable. The reader experiences death as, yes, a dramatic event, but also as only another step in the great story of life, not the end of it. 
Regardless of which of these masters of storytelling one chooses to sit at the feet of, this is the time to learn from the great myths of our time. It is the time to let ourselves be engulfed in those myths which, rather than distracting us from our sorrows, whisper to us of ultimate reality. They are those myths which give us glimpses of heaven and inspire us to live in an heavenly manner while on earth. They are those myths which point us to the King of both the seen and unseen realms, he who was once a carpenter in the ancient Near-East but who is now clothed in brilliance and upon whom eternity depends. 
These myths, unlike so much of the entertainment available to us today, sharpen rather than dull our spiritual senses. They increase our awareness of both our mortality and immortality. Enraptured in one of their stories one feels that the boundary between this world and the dimension of the angels is not quite so impenetrable. 
There are worse ways to spend a quarantine.